Most of us know that feeling, 5 pm on Thursday hits, the only thing in between you and the weekend is Friday. Then all day, you have that #FridayFeeling.
It's unbelievably easy to allow yourself to just go to work and do very little or spend most of the day socializing with your co-workers because you're just so close to the weekend.
If you're trying to perform well today to save yourself sometime on Monday, check out these tips to help you combat that #FridayFeeling.
Meditation
Meditation is a proven mind-clearing method. While you may not forget it's Friday, you may be able to center yourself enough to get your head back in the game.
Studies actually show that students who meditate for 20 minutes a day perform better on some cognitive tests than their peers. Even if you're not a student, meditation can work and help you outperform your co-workers, to get that raise!
For some meditation instructions, check out these Mindfulness Tips & Tricks.
Take A screen break
Do you remember when you were little and your mother would tell you to stop watching TV because it would hurt your eyes?  This is the same concept. So many of us have to stare at a computer all day, which isn't easy on the eyes. Tired eyes will only make your #FridayFeeling even worse!
Lifehacks suggests trying the 20-20-20 method. It's quite simple but not good if you're on a time crunch – after every 20 minutes, choose an object roughly 20 feet away and stare at it for 20 seconds to lessen the strain on your eyes.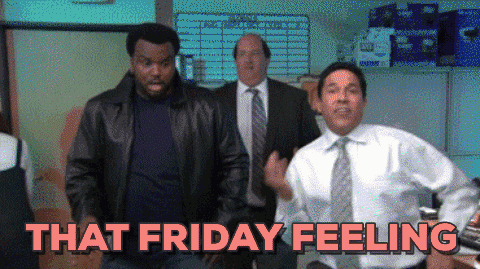 adjust your stimulation amounts
It's really easy to get overwhelmed on Fridays because many of us rush through our work to get to the golden weekend on the other side. If you're feeling overwhelmed, take a look around. What can you add or take away?
Obviously, you can't get rid of your co-workers but perhaps finding a nice quiet conference room is an option. If not, maybe throw some headphones on and listen to some calming music.
Be warned! The type of music you choose will absolutely have an impact on your work. If you listen to sad music, chances are you won't feel too enthusiastic about the work in front of you. Pick some uplifting happy tunes to really power through your day.
Plan out your Friday before you get those #fridayfeelings
Think about how awesome it would feel if you could check the last thing off your list at 3 pm on Friday.
On Thursday night or even before you leave the office, make a plan of all of the things you need to get done. Some may suggest doing it in time order but if you're less worried about time, it may work better to plan it out by priority instead.
Try it out and see what works for you, it might even be a task that can be done first thing Friday morning. If you want to make sure your work is done and you can enjoy those last few summer Fridays, do it on Thursday.
If you need some help with your organization, check out Cudoo's online Organizational Skills course!
You're so close! Only a few more hours! You've got this!